Hastings Lake Hall Rental Information
Hastings Lake Hall is operated by the Hastings Lake Community Association.
The hall is located at 51080 Range Road 204 – 1.5 km south of Highway 14 at the Hastings Lake turnoff.
Directions to Hastings Lake Community Hall- Google maps
Some of the hall amenities include:
smoke free environment
wheelchair accessible washrooms
tile dance floor
stage
AV system with screen, projector & media player (extra charge applies)
full kitchen with 2 electric ranges, commercial double door fridge, freezer, cooking and serving utensils
Commercial Jet-Tech hot water sanitizer/dishwasher (2 min cycle). View instructional video here
Winter skating rink (subject to conditions) with night lighting.
The building is 2561 square feet and has a seating capacity of 100.
Hastings Lake floor plan: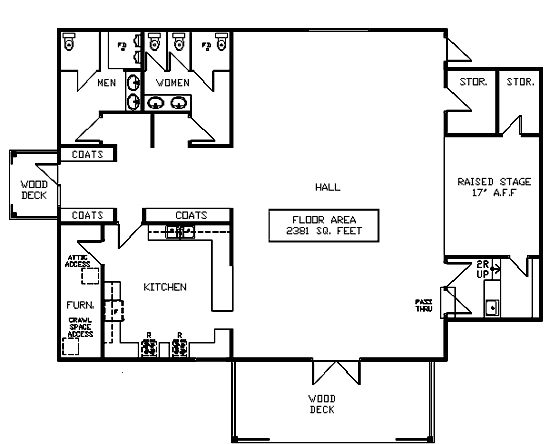 Outdoor amenities include:
camping with a permit during a booked function
playground
outdoor basketball court
tennis court
scrub ball diamond
nature trails
fire pit
Commonly asked questions:
Do you have the date Im looking for available?
The most efficient way to check rental availability is under our events calendar. This calendar is kept up to date, and will be able to show you what is available and what is not. You can view the calendar here: http://www.hastingslakehall.ca/events/

My date is available on the calendar, how do I book it?
We will need you to fill out the rental request form. This is the best way to book your event, to ensure we receive all information needed from you. After you have done this, our rental coordinator will contact you within 24 hours to have you fill out the necessary rental agreements and to discuss deposit. Please be aware that your rental is not considered confirmed until we have received your $500 security deposit.
To be taken to the rental request form follow this link: http://www.hastingslakehall.ca/reservations/
How much does it cost to rent the hall?
Rental Rates:
Member Rate/Hour                                                                         $25
Non-Member Rate/Hour                                                                 $30
Member Rate/Day (24hr)                                                                 $250
Non-Member Rate/Day (24hr)                                                         $300
Member Rate/Weekend (min. 3 days)   Sept-May                           $700
Non-Member Rate/Weekend (min. 3 days)   Sept-May                   $850
Member Rate/Weekend (min. 3 days)   Jun-Aug                             $850
Non-Member Rate/Weekend (min. 3 days)   Jun-Aug                     $1000
Overnight Camping Per Unit:   $10
Dumpster Access                      $40
AV Equipment Rental:               $150
Security Deposit:                       $500
There is a minimum 3 days rental for weekends in June, July and August.
Limited camping sites available (unserviced) – Camping Permits are needed.


*Note: In order to qualify for member pricing, you must have held a HLCA membership for at least 1 year before your rental*
How many can the hall fit?
The hall capacity is 100. If you would like to have more than 100 people at your event, you will need to rent a tent as well as porta potties.
Please read over all FAQ prior to booking your event. Here you will find all information obtaining to your rental & what is included: http://www.hastingslakehall.ca/faqs/


Are you serving alcohol at this community hall for your function?
Functions with alcohol are required to purchase Host Liquor Liability insurance in the amount of $2 million. Renters are required to name both Hastings Lake Community Association and Strathcona County as Additional Named Insureds on their Certificate of Insurance.
If you do not find the information you're looking for on the website under the FAQ, please call Candis, our Rentals Coordinator at 780-915-9061 or email hastingslakerentals@gmail.com.