News & Information
March 2017 update
March 25, 2017, admin
just a quick update for members, the hall is getting a much needed coat of paint on March 27/28/29th as well on March 28th the Playgroup will be hosting outside a "spring break, last skate" to celebrate the start of Spring, the HLCA board as co-sponsored this even with a hot-dog lunch, we are expecting a visit from out local MLA, Estefania Cortes-Vargas. April 22 will be out Spring Yard Sale , contact Sam at 780 90 4633 for details or email hastingslakeca@gmail.com.
Help Save Ministik School
January 26, 2017, admin
Please visit the website site to find out more about the proposed closure of Ministik School and the working being done to keep it open.
Help us keep Ministik School open
January 16, 2017, admin
follow this FaceBook group set up by the parents to help consolidate information to pass on to the school board.
Stay tuned for new event schedule!!
August 11, 2016, admin
The board of directors is meeting on August 11th to discuss a new events schedule for the coming year, check back here to get all the updates!!
Wizards of Winter a great success!
February 16, 2016, admin
About 200 people attended the Wizards of the Forest Owl event at the Hastings Lake Hall for Family day. It was hosted by the Beaverhill Bird Observatory and the Bookmobile staff.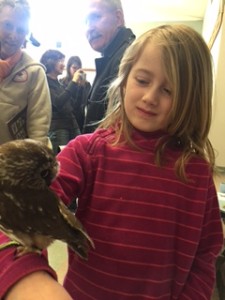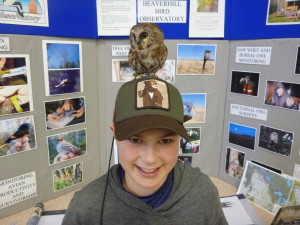 Family Day Fun – Wizards of Winter
February 7, 2016, admin
Monday, February 15th from 1 to 4 PM at Hastings Lake Hall.
Enjoy skating, outdoor & indoor games, crafts, treats & more!
Special visit by Ray the saw-whet owl and Colonel Slade the barred owl.
Special thanks to the Beaverhill Bird Observatory.
Sponsored by Strathcona Library Bookmobile with the generous support of Shell Canada.
Hastings Lake Hall All-You-Can-Eat Pasta Dinner
February 1, 2016, admin
Mama Mia! 
It is time once again for the Hastings Lake Hall All-You-Can-Eat Pasta Dinner
Please join us on Saturday, February 20 from 5 to 7 pm
Great Pasta – Delicious Sauces – Scrumptious Salad & Garlic Bread
Relax and enjoy a glass of wine and Live entertainment by "The Celebrates"
If you can donate a pasta sauce and/or dessert or help out with set up or clean up, please contact Phil at 780-662-4782
Did you know we have an ice rink?
December 16, 2015, admin
This winter (2015/2016) Hastings Lake Community Assoc. has partnered with Strathcona County Parks and Recreation to provide a free skating rink on our ball diamond for use by the local community. The county will maintain the rink and the Community Assoc. will provide lighting. The rink is open now for use but there are some rough spots so please be careful and wear your safety equipment. The lighting is in progress and should be ready in the next week or so.
for more info contact HLCA vice-president Todd Laschowski at toddll@xplornet.ca
"keep your sick on the ice"
HLCA
2015 Honorary Life Member
June 24, 2015, admin
Ruth Ball was presented an HLCA Honorary Life Membership at the Annual General Meeting on June 17, 2015.
Billy Teefy, HLCA President and Ruth Ball, Past Treasurer
Ruth and her husband, Ron, moved to the Hastings Lake area in 2002 and quickly became involved in the Hall by helping out at various events and with Hall maintenance.  In 2004, Ruth became Vice President of HLCA and moved to the position of President the next year.  In 2006, she became Treasurer – a post which she held until June 2015.
Ruth has been a coordinator for many Hall events over the years including the Harvest Hoedown, Turkey Dinner, Winter Solstice, Volunteers' Appreciation Barbecue, Community Yard Sale and Travel Nights. In addition to being Treasurer, she also took on the tasks of communications for Hall events and membership. She helped develop the Hall's pelican logo and Hall website and with the updating of the HLCA By-Laws which were 60 years old.  During her term Ruth assisted with 2 major Community Facilities Enhancement Program (CFEP) grants and numerous Strathcona County grants for Hall events.
Ruth has been a leader with Girl Guides of Canada for 38 years and was recently awarded an Honorary Life Membership in that organization.  She also received a "High Five Award" from Strathcona County's Family & Community Service, honouring the adults who have made a difference in the lives of the children and youth of Strathcona County.  Ruth currently leads a Ranger Unit (girls 15-17 years). She & Ron enjoy sharing their "bush & beaver pond" property by hosting camps for all age groups.  Ruth feels nothing is more rewarding than hearing a young girl say "Wow, there is a whole lot of nature here!"
Hall receives Grant for Renovations
November 24, 2014, admin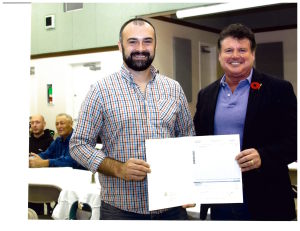 On November 1st, HLCA President Billy Teefy was presented with a cheque from MLA Dave Quest to help with upcoming renovations planned for Hastings Lake Hall.  Approx. $29,000 was received
under the CFEP Provincial Grant Program.  This will be topped up with a grant of $23,000 from Strathcona County.  Renovations will include new furnaces and hot water heater, new kitchen cabinets and new appliances.
Stop by the Hall sometime to see our beautiful NEW KITCHEN!