News & Information
Hastings Lake Hall Yoga Has Returned
August 22, 2018, admin
As summer begins to wane one begins to think about change. Perhaps you wish to Fall back into Yoga as part of that change, enjoying the physical and mental benefits of this ancient practise.
Join us at Hastings Lake Hall for yoga with your community and meet new friends. If you are new to yoga- don't worry as we will begin at a pace suitable for all levels. Yoga will be offered later in the fall and winter as well.
Tuesdays September 4th- 25th @ 8-9:15 pm
Thursdays September 6th-27th @8 pm-9:15
Cost: $14 for drop ins
or $40 for 4 classes.
Let me know if you are new to the practise and need a mat. Please share this and contact me if you have questions! Enjoy the rest of the summer!
Namaste-
helentrefry@gmail.com
"Take care of your body, it's the only place you have to live." Jim Rohn
Community Programs at Hastings Lake Hall over the Summer
June 26, 2018, admin
Join us at the Hastings Lake Hall for our Summer Community Programs!
2018 AGM, 7:00pm, June 13 at the Hall, all welcome
May 31, 2018, admin
Paint Night
April 2, 2018, admin
Come out to a night of painting at the Hastings Lake Hall!
Saturday April 28th at 7PM – tickets are $40
Reserve your spot by contacting Karine at: karinegervaise33@gmail.com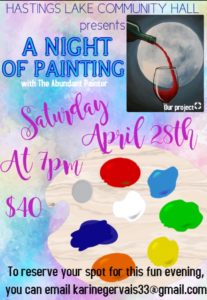 Christmas in the Country 2017
March 23, 2018, admin
Christmas in the Country is a chance for residents to share their crafting talents and offer unique Christmas gifts. It is also a time to share with family and friends. In December 2017, Brook Gerard and her Mom share a table while Alina Schneider and daughter Sasha Schneider share their unique pottery.
Annual Pasta Supper
March 23, 2018, admin
The Pasta supper is one of the Community Suppers held every year at the Hastings Lake Hall, treating attendees to Italian food and music.
Here The Big Spruce Boys play for a full crowd (February 2018). If you like to cook and volunteer, join the Hastings Lake Community Association is a great way to meet people in your rural community.
2018 Summer Rentals still Available
February 5, 2018, admin
The Hastings Lake Community Hall summer rental dates are filling up fast, however we do have some availability still. During the busy season of the summer we do require that any weekend hall rentals are from the Friday-Sunday.
If you're looking for information on cost, what is entailed in your hall rental, capacity, etc. please head over to our FAQ section by clicking here: http://www.hastingslakehall.ca/faqs

We do keep our calendar up to date, and it is updated as soon as a booking is confirmed, or if it is pending, therefore you are able to check rental availability by looking at the calendar: http://www.hastingslakehall.ca/events
Once you've decided that you'd like to book the hall, or view it please contact our Rental Coordinator (Karla) by filling out this form: http://www.hastingslakehall.ca/reservations
If you have any questions that are not covered within the FAQ section or you need further information you are welcome to contact her by email at: Hastingslakerentals@gmail.com or alternatively you can call her at: 780-266-7165.
Please be aware once Karla has received your request form, email, or phone call, she will respond to you within 24 hours.
HLCA AGM
June 12, 2017, admin
Attn ALL MEMBERS
Due to a recent glitch between our web hosting and the web site builder updates to this site were not being posted including the notice for the AGM which is THIS Wednesday June 14th at 7:00pm at the hall.
The board apologizes for this short notice on the website.
Ft Mac evac – 1 year on
May 4, 2017, admin
Today is the 1 year anniversary of the wildfire evacuation of Ft McMurray and the opening of our hall and our community to the 20+ evacuees who chose to come out and call our small community home for a month following the evacuation of the city. What resulted out here on hwy 14 was nothing short of amazing, our small community pulled together and achieved something we can be very proud of. Through our combined efforts we met the every need of the people who came to us for help. Most of you reading this probably helped in some way and rest assured it did not go unnoticed by our guests or by the board of directors, everything from food and water to clothes and toiletries, RV's and propane to showers and toys, diesel and generators was provided by members of our community but there was also massive amounts of the somewhat less tangible "donations" the chats over coffee on the deck or the quite beers under the awning of a donated RV, the midnight mopping of the floor or the dirty laundry that disappeared and came back clean and these are the things that show the true spirit of our members and the community.
On behalf of the board I would like to thank again our community this would not and could not have happened without your support, as far as cost to the association it was literally a bigger phone bill, bigger power bill and an extra septic clean, which from our perspective was absolutely no problem and MUCH less than we anticipated and this was due to anything we asked the community for being donated almost before we had finished asking.
This is something we can ALL be very proud of for a long time to come and we would like to wish our guests the very best as they continue to work through putting their lives back together.
Sam – HLCA director.
March 2017 update
March 25, 2017, admin
just a quick update for members, the hall is getting a much needed coat of paint on March 27/28/29th as well on March 28th the Playgroup will be hosting outside a "spring break, last skate" to celebrate the start of Spring, the HLCA board as co-sponsored this even with a hot-dog lunch, we are expecting a visit from out local MLA, Estefania Cortes-Vargas. April 22 will be out Spring Yard Sale , contact Sam at 780 90 4633 for details or email hastingslakeca@gmail.com.
Help Save Ministik School
January 26, 2017, admin
Please visit the website site to find out more about the proposed closure of Ministik School and the working being done to keep it open.
Help us keep Ministik School open
January 16, 2017, admin
follow this FaceBook group set up by the parents to help consolidate information to pass on to the school board.
Stay tuned for new event schedule!!
August 11, 2016, admin
The board of directors is meeting on August 11th to discuss a new events schedule for the coming year, check back here to get all the updates!!
Wizards of Winter a great success!
February 16, 2016, admin
About 200 people attended the Wizards of the Forest Owl event at the Hastings Lake Hall for Family day. It was hosted by the Beaverhill Bird Observatory and the Bookmobile staff.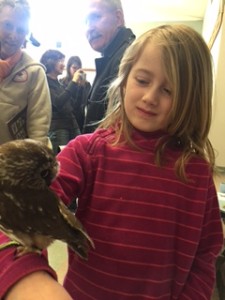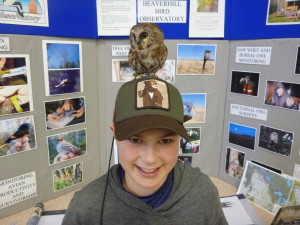 Family Day Fun – Wizards of Winter
February 7, 2016, admin
Monday, February 15th from 1 to 4 PM at Hastings Lake Hall.
Enjoy skating, outdoor & indoor games, crafts, treats & more!
Special visit by Ray the saw-whet owl and Colonel Slade the barred owl.
Special thanks to the Beaverhill Bird Observatory.
Sponsored by Strathcona Library Bookmobile with the generous support of Shell Canada.
Hastings Lake Hall All-You-Can-Eat Pasta Dinner
February 1, 2016, admin
Mama Mia! 
It is time once again for the Hastings Lake Hall All-You-Can-Eat Pasta Dinner
Please join us on Saturday, February 20 from 5 to 7 pm
Great Pasta – Delicious Sauces – Scrumptious Salad & Garlic Bread
Relax and enjoy a glass of wine and Live entertainment by "The Celebrates"
If you can donate a pasta sauce and/or dessert or help out with set up or clean up, please contact Phil at 780-662-4782
Did you know we have an ice rink?
December 16, 2015, admin
This winter (2015/2016) Hastings Lake Community Assoc. has partnered with Strathcona County Parks and Recreation to provide a free skating rink on our ball diamond for use by the local community. The county will maintain the rink and the Community Assoc. will provide lighting. The rink is open now for use but there are some rough spots so please be careful and wear your safety equipment. The lighting is in progress and should be ready in the next week or so.
for more info contact HLCA vice-president Todd Laschowski at toddll@xplornet.ca
"keep your sick on the ice"
HLCA
2015 Honorary Life Member
June 24, 2015, admin
Ruth Ball was presented an HLCA Honorary Life Membership at the Annual General Meeting on June 17, 2015.
Billy Teefy, HLCA President and Ruth Ball, Past Treasurer
Ruth and her husband, Ron, moved to the Hastings Lake area in 2002 and quickly became involved in the Hall by helping out at various events and with Hall maintenance.  In 2004, Ruth became Vice President of HLCA and moved to the position of President the next year.  In 2006, she became Treasurer – a post which she held until June 2015.
Ruth has been a coordinator for many Hall events over the years including the Harvest Hoedown, Turkey Dinner, Winter Solstice, Volunteers' Appreciation Barbecue, Community Yard Sale and Travel Nights. In addition to being Treasurer, she also took on the tasks of communications for Hall events and membership. She helped develop the Hall's pelican logo and Hall website and with the updating of the HLCA By-Laws which were 60 years old.  During her term Ruth assisted with 2 major Community Facilities Enhancement Program (CFEP) grants and numerous Strathcona County grants for Hall events.
Ruth has been a leader with Girl Guides of Canada for 38 years and was recently awarded an Honorary Life Membership in that organization.  She also received a "High Five Award" from Strathcona County's Family & Community Service, honouring the adults who have made a difference in the lives of the children and youth of Strathcona County.  Ruth currently leads a Ranger Unit (girls 15-17 years). She & Ron enjoy sharing their "bush & beaver pond" property by hosting camps for all age groups.  Ruth feels nothing is more rewarding than hearing a young girl say "Wow, there is a whole lot of nature here!"
Hall receives Grant for Renovations
November 24, 2014, admin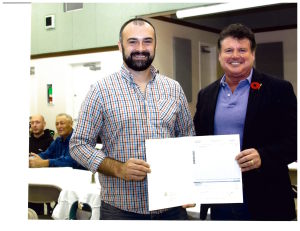 On November 1st, HLCA President Billy Teefy was presented with a cheque from MLA Dave Quest to help with upcoming renovations planned for Hastings Lake Hall.  Approx. $29,000 was received
under the CFEP Provincial Grant Program.  This will be topped up with a grant of $23,000 from Strathcona County.  Renovations will include new furnaces and hot water heater, new kitchen cabinets and new appliances.
Stop by the Hall sometime to see our beautiful NEW KITCHEN!