February 24 7:00 pm
Agenda Items Include:
Create new committees
Membership Drive
Building Expansion
Fundraising
As summer begins to wane one begins to think about change. Perhaps you wish to Fall back into Yoga as part of that change, enjoying the physical and mental benefits of this ancient practise.
Join us at Hastings Lake Hall for yoga with your community and meet new friends. If you are new to yoga- don't worry as we will begin at a pace suitable for all levels. Yoga will be offered later in the fall and winter as well.
Tuesdays September 4th- 25th @ 8-9:15 pm
Thursdays September 6th-27th @8 pm-9:15
Cost: $14 for drop ins
or $40 for 4 classes.
Let me know if you are new to the practise and need a mat. Please share this and contact me if you have questions! Enjoy the rest of the summer!
Namaste-
helentrefry@gmail.com
"Take care of your body, it's the only place you have to live." Jim Rohn
Join us at the Hastings Lake Hall for our Summer Community Programs!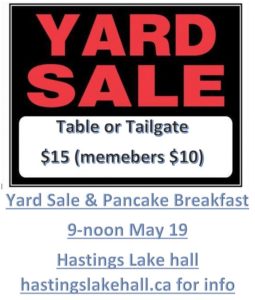 Come out to a night of painting at the Hastings Lake Hall!
Saturday April 28th at 7PM – tickets are $40
Reserve your spot by contacting Karine at: karinegervaise33@gmail.com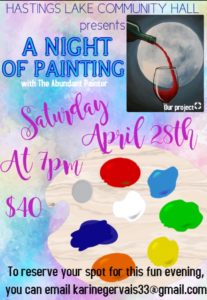 Christmas in the Country is a chance for residents to share their crafting talents and offer unique Christmas gifts. It is also a time to share with family and friends. In December 2017, Brook Gerard and her Mom share a table while Alina Schneider and daughter Sasha Schneider share their unique pottery.
The Pasta supper is one of the Community Suppers held every year at the Hastings Lake Hall, treating attendees to Italian food and music.
Here The Big Spruce Boys play for a full crowd (February 2018). If you like to cook and volunteer, join the Hastings Lake Community Association is a great way to meet people in your rural community.